Lifepo4 48v 200ah lithium battery for electric golf cart buggy ev 5000+ cycle life 5 to 10 years warranty
OEM/ODM ACCEPTED!!!
WELLCOME TO SEND YOUR REQUIREMENTS TO US FOR SOLUTIONS AND QUOTE.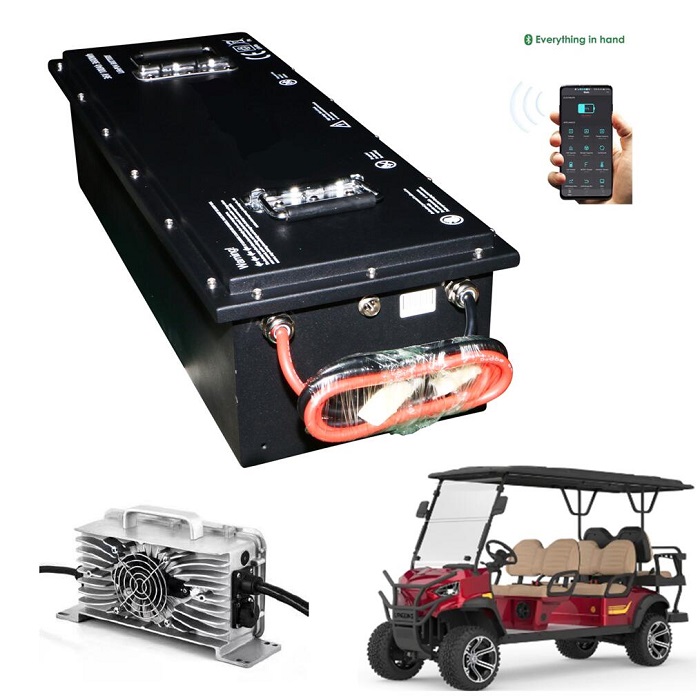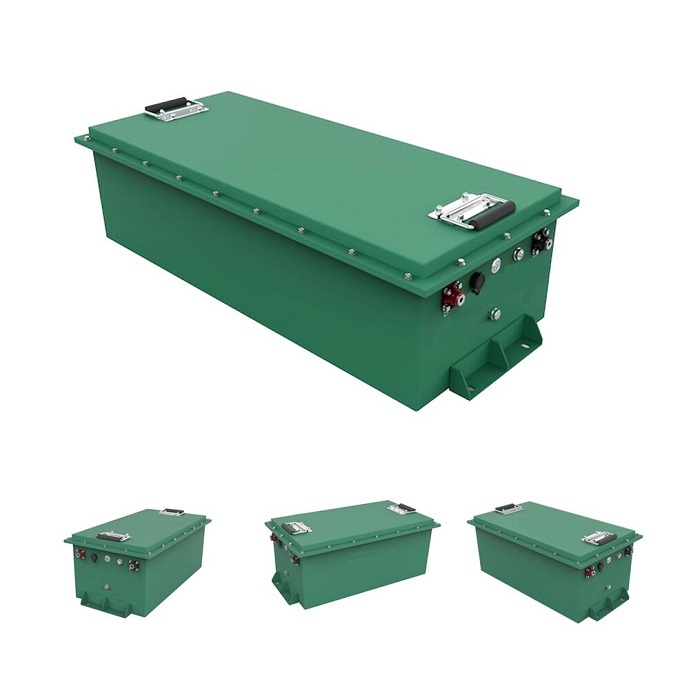 SPECIFICATIONS:
Model: LiFePO4 48V 100Ah
Nominal Voltage: 51.2V
Nominal Capacity: 100Ah
Stored Energy: 5.12kWh
Self-discharge: < 3% /months
Charging Voltage: 56.8-57.6V
Discharging Voltage: 40V-57.6V
Max. Continuous Discharging Current: 100A
Peak Discharging Current: 300A (10s)
Standard Charging Current: 15A
Max Charging Current: 100A
Housing: Metal Case
Color: Black, Green, or Customized
Dimension: 820*375*190mm or Customized
Weight: About 105KGS
IP Grade: IP54
Terminals: M8 or customized
BMS Functions: Over charge, over discharge, over current, short circuit and temperature protection
Communication: RS485/ RS232/ CAN (Optional)
Cycle Life: 5000+ cycles
Warranty: 5 to 10 Years
Charge Temperature: 32℉ to 131℉(0℃ to 55℃)
Discharge Temperature: -4℉to 140℉(-20℃ to 60℃)
Storage Temperature: 14℉ to 113℉ (-10℃ to 45℃)
Charge Temperature with Heating Function: -4℉to 131℉(-20℃ to 55℃) (Optional)
BMS High Temperature Cut-Off: 167 °F (75℃)
Reconnect Temperature: 122°F (50℃)
Features:
- 5 or 10 Years Manufacturer Warranty
- Deep Cycle LiFePO4 Lithium Iron Phosphate Battery
- Grade A LiFePO4 EV Cell
- Built-in Smart Battery Management System (BMS)
- 5000+ Cycle life & Maintenance-free
- Over charge and over discharge protection
- Over current and short circuit protection
- High & low temperature protection
- Internal heating allows for charging in below freezing conditions(Optional
Applications:
- Golf Cart, RV, Caravan, Camper, Motorhome
- Trolling Motors
- Fishing Boat, Houseboat & other Marine Applications
- Mobile Power Supply
- Solar PV System, Household Energy Storage System, Backup Power Supply, UPS, EPS, ect.
- Lead Acid Battery Replacement